The RealWear HMT-1Z1 glasses provides the foundation for Connected Worker programs. It is the world's first intrinsically safe head mounted wearable computer that meets Class 1 Division 1 and ATEX Zone 1 certifications – meaning it presents no ignition risk where potentially explosive atmospheres exist in normal routine operations.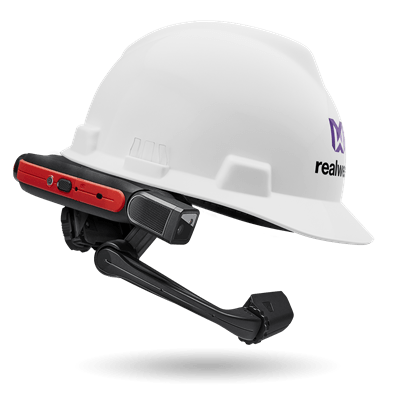 Additionally, use it in wet, dusty, hot, dangerous and loud industrial environments. A fully rugged head-mounted device, it optionally snaps into safety helmets or attaches to bump caps and can be used with safety glasses or corrective eye wear.
Similar to the RealWear HMT-1 in functionality, this model is ideal for use in oil & gas operations in upstream, midstream and downstream, chemical plants, aviation fuelling, industrial gases supply, electric car battery servicing and more.

The HMT-1Z1 has one of the most advanced voice recognition systems on the market. The voice recognition even works with noise levels up to and including 95 dB, ideal for use in loud industrial environments. The high-resolution micro display fits just below your line of sight and views like a 7" tablet. It's an industrial dashboard: there when you need it and out of your way when you don't.

In addition you get the use of RealWear Foresight, this is a powerful suite of cloud services for RealWear devices. With Foresight, organizations can manage their devices, install and update apps, make device settings, and manage security – all from a web portal accessible anywhere in the world. Devices may be in any location as well so that it is easy to manage HMTs whether they are all working out of the same location or are spread around the world. With the latest upgrade RealWear's Foresight now has additional capabilities such as firmware deployment, remote support onto the device and powerful analytics. 
Specifications
Chipset 2.0GHz 8-core Qualcomm® Snapdragon™ 625 with Adreno 506 GPU – OpenGL ES 3.1 & OpenCL 2.0

Operating System Android 8.1.0 (AOSP) + WearHF™ hands-free interface

Memory 16GB Internal Storage/2GB RAM/MicroSD slot (max card supported 64GB)

Included Applications Document Navigator, Camera with Barcode Reader, Video Recorder, Media Player

Languages Supported English, Spanish, French, German, Italian, Portuguese, Russian, Mandarin Chinese, Japanese, Korean, Thai, Polish
Bluetooth Bluetooth 4.1 LE
Capacity 3400 mAh Li-Ion internal rechargeable battery
Battery Life Full shift (8-10 hours) with typical use
Ports 3.5mm audio, 1 micro-USB for data and charging
Display 20° field-of-view, 1-meter fixed focus 24-bit color LCD, 0.33-inch diagonal, outdoor visible

Camera 16MP 4-axis optical image stabilization, PDAF with LED flashlight
Video Up to 1080p @30fps. Codecs: VP8, VP9 and hardware encoding support for H.264, H.265 HEVC
Contains:
HMT-1Z1 with preinstalled non-removable battery (3400 mAh Li-Ion)
Wall Charger
MicroUSB Cable with inline Charging Protection "safety box"
Overhead Strap
Rear Pad